3/27 Transformation Celebration! Namaste Seeds of Change!
I greet you in these final days and week of March, poised to embrace April this weekend with Palm Sunday flowing into Holy Week. I made a short vlog in my pajamas on the porch a few days ago and added some more celebration today fully dressed 😊 and with some of my stuffy friends in the playhouse. Here's the short of the celebration ~ the exclamation point! The full (pajama) version is more of an alchemical exploration of life's circle of celebration.

Yes, just as a leprechaun can become a rabbit, we can embrace change to embody more of who we truly be. Our seed essence always remains unchanged, no matter the outer circumstances or even the inner turmoil we may experience on any given day or chapter of our lives.


Yes, there is an abundance of April awareness on the way! Awareness. Such a cornerstone of spiritual practice. When we notice all of our blessings and give thanks, we become even more blessed. When we are aware of the sacredness that surrounds us, and indeed, is us, we embody more light, more divinity, more of the seed essence we are created to be!

Currently, this is a time of Lent for many, and also Ramadan, an annual 30 day Islamic fasting and spiritual practice tradition. Fasting is a time tested tool to transcend some of the heaviness of the material and experience more of the ethereal. I have recently been increasing my own hours of fasting, usually at least 18 hours per day. I have been doing intermittent fasting as a daily practice for about 8 months. There are many aspects to this; body/mind/spirit. I will, for now, simply say, that I do indeed experience more Spirit as well as a deeper connection with my body temple. As with any life style change, it has, and continues to be, a process. I used to have Lenten promises or processes that were about discipleship as will power. This year, I am aware of increasing empowerment from discipleship as the will to align with the shine of my divine design. I experience this more as a surrendered flow to a higher calling rather than a willful tug of war to win. I choose to be a disciple, or follower of the higher call, in continual spiritual practice. The more I do that, the more I am that. And so the circle goes! In the circle of life, we do well to honor all we can. Here is an honoring of my dad's 3/24 1st anniversary on the other side.

So, yes, there is much happening in my leprechaun/rabbit heart and mind these days! Looking forward to more play & pray rootedness in sacredness awareness in April. Whatever moment we connect in the circle, thank you. I celebrate you! I see, know, and affirm the evolution of our lives with great appreciation and delighted anticipation for all we are becoming.
Transformation Celebration!
3/17 Greetings green growing seeds of possibility!
Namaste this St. Patrick's Day! I have been blogging and vlogging in my head and on camera all month; ever dancing with the resistance to be here so here I am! Cheers to the green and to St. Pat's invite to BE!
"Be still and know that I am God.
Be still and know that I am.
Be still and know.
Be still.
Be."
St. Patrick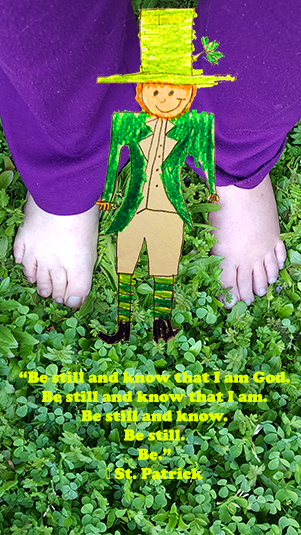 I have been doing a lot of spring cleaning and rennovations meant to be shared here so they will most likely be here another day. This day, here is a compilation vlog, in vertical, mostly centered on walking again and the divine perfection in the seeming imperfection, followed by commentary that ties it all together. BE!
Walking
As my song, 'Bring On The Water' sings,
"I'm taking right next steps into this new time."
I have been literally taking baby steps since March 1st after seeing the next xray in my journey of the broken ankle. Though the bone was still gapped, solid collegen (daily intake!), solid substance 'stuff' was there strengthening and beckoning movement. I have been incrementally walking, graduating from the centimeter shuffle some of you may remember from Tim Conway on the Carol Burnett Show, 😊! It is an amazing gift to go slow. I never thought I would say that. Yet, my 'forced' process has allowed me deep layers of patience, acceptance, and unconditional Love. I have been able to center in the sacred more and more, no better way to do that than to go slow! I have always been a power walker yet I am so grateful to be walking again, I am happy with small steps. I saw right away that any type of 'normal' speed caused a limp, so hence the tiny Tim Conway steps which I am for the most part graduated from now. The actual steps themselves were an out picturing of the slow, healing and opening processes I have been sifting and sorting with mind, heart, and soul. As my ankle so profoundly told me, "I am the place to be broken as a token to all your places of disillusioned devotion."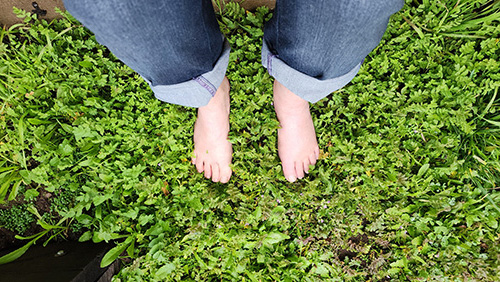 Earthing
What an ahsome, green and blue planet we are gifted to live on! She not only provides all our needs, she is here to heal us whenever and wherever we are broken! The science based process of grounding, aka earthing has been an important part of my journey. I have been using some of the indoor products though only in waking hours. The bed thing has moved to the office/computer chair. One night with the grounded mat was all I could take ~ guessing it was too tethering for me, I have night journeys and places to be! 😊 The BEST and most natural way is SO simple; just get your bare feet on the ground! I have been sitting with feet in the (cold!) grass as I am in this moment, soaking up some glorious sun, whenever possible. I have also been walking the yard a bit in those slow, sacred steps. I have never appreciated this yard more! And! The neighbors. I have gotten SO much better at being the observer and just letting them be. I'm actually writing this blog as the hammering, radio, and occasional, conversational banter arises. I have grown and risen!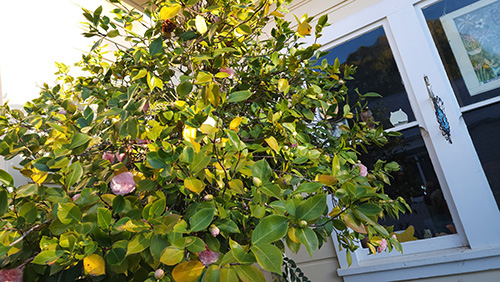 Camellias
These pink beauties have been best friends this winter! I have watched so many buds hold on through cold, frosty weather, snow, big rains and winds, sometimes opening more, only to stop again; such a lesson in perfect perseverance, trust, and allowance! I am ever reminded to be in acceptance and allowance of my own processes!
Alchemy!
I have had this much needed time to alchemize and heal. As I alchemize, I realize how my impatience and not enoughness has driven me to create more and more and more and more without fully recognizing, realizing, appreciating, celebrating, along the way! My deepest wounds come from not being seen and recognized ~ the work itself, more than me (or is it???!!!) ~ to be so prolific and simultaneously invisible has been my cross to bear. As a performer (Mars & Moon in Leo says LOOK AT ME 😊), I do go into the wounded hiding spot when I am seemingly ignored. And while it's true I have created way more videos than views, the alchemist sees and knows all that has happened on both sides of the curtain 😊 There is a volume of deets yet I will give you a tangible example; this blog! As I rewind through all that has been, I have revisited the blog and found so much wisdom there! March 2019, I spoke of St. Pat, March 2020, I announced the debut of ETV. There were very few posts that followed that one. Part of my chosen invisibility is my disdain of commercials I cannot control out there in cyberspace yet the deeper driver is (always!) the subconscious programming that all too often, not only argues for, but plays out our limitations. So! The blog began in February 2011 and I showed up every Mindful Monday, noting the first 'week off', after the fact in March of 2014. As I revisit the blog offering, I am able to see how my persistent patterns have played out over the years. I also see, that as with ETV, on some level, I was offering the world the best of me and it was not received. I have had a similar pattern in relationships. The good news is that since I am the common denominator, I can change any or all of it! I do have the thought(s) that perhaps any and all of my work; blogs, websites, songs, books, have always and only been for ME and me alone. YIKES! How horrible is that?! 😊 Truth is, I have benefitted from my own offerings over the years. AND! I SO want to alchemize and realize having YOU or SOMEONES also benefit from the co-creations! I want to get out of the way! Therein lies the persistent insistence of resistance. Yet! I know and celebrate that I have come so far into unconditional Love. I will continue to practice deepening this reality of divinity all the rest of my days. I can and must follow the flow of my co-creations yet I have learned another way to do it. This new way seems to allow more of the needed honoring; the new way, for me, is SLOW! Or at least slower. Sacred going can require slowing, yet it allows for such growing and glowing!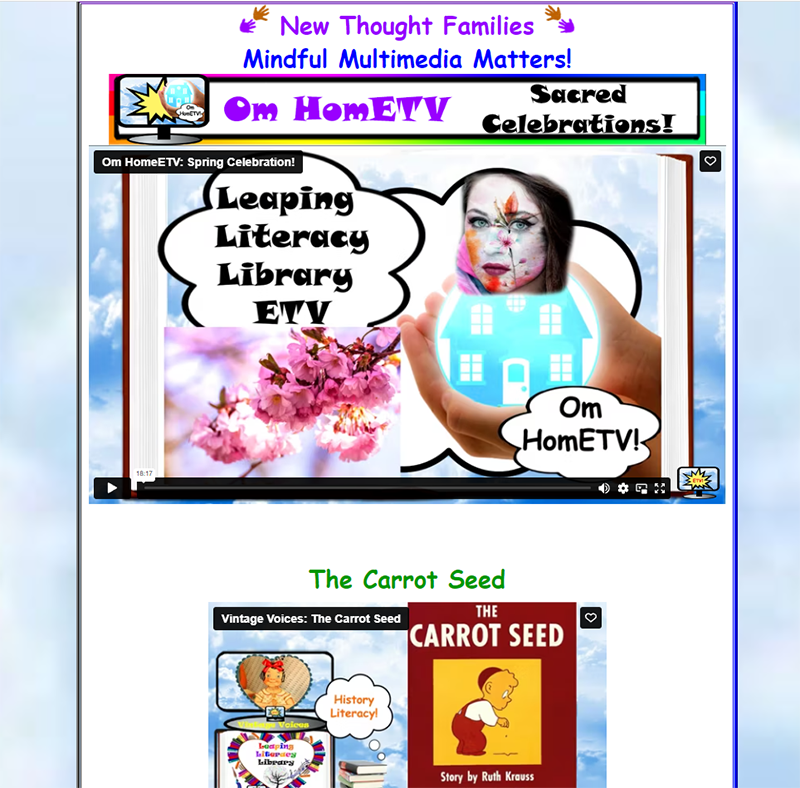 Commitment
As I showed up for Lent in a new wave of commitment, I have been able to see and accept layers of behaviors. We avoid pain! Since it has always been painful for me to be ignored, I can see why I would avoid showing up. Again, knowing root causes can be so freeing! I AM committed to showing up, I had to come into more awareness of my alchemy and layers, divinity, reality, dreams. Behaviors. It is an ongoing process and I am 'taking right next steps into this new time.' It is my inevitable evolution to walk right into the next co-creations that are a part of who I am and who I came here to be! Yippee!

St. Patrick
Perhaps his greatest gift was not what he did for Christianity yet rather that he returned to the land where he was enslaved to preach! In case you don't know, St. Pat was a Brit who was kidnapped at age 16 and enslaved in Ireland. He escaped and returned home yet then followed his guidance to return to Ireland and was instrumental in sowing seeds of Christianity. Through his religious doctrines and practices, he was also an important force for literacy. Talk about blooming where you are planted or where you plant yourself!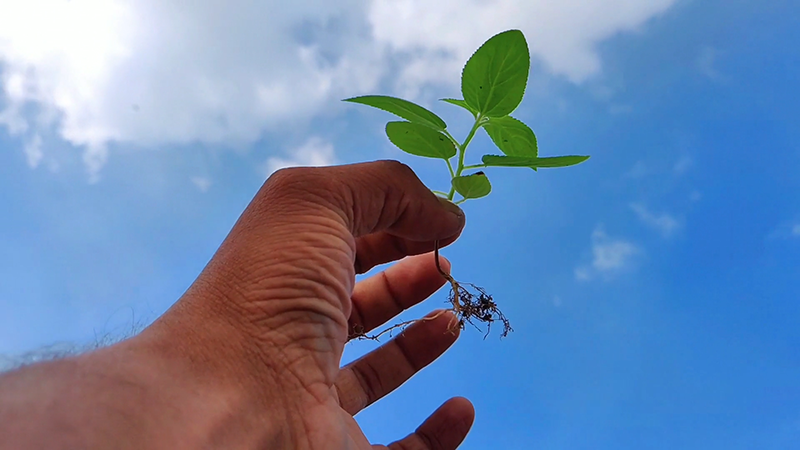 Seeds of You!
Just as I have been exploring on my personal healing journey, we always have the opportunity to sift through our layers of all that has been, where we are now, the life we are living into. The essence of YOU, the seed of your being, all you are born for, lives inside you. Any areas of pain, healing, invitation to change, are always available FOR you, for your good, for your highest expression. I am more certain than ever that our solutions are inherent in our evolution! I wish you well in unconditionally loving yourself wherever you are on your path and however big your steps forward (or backward!) are! You really are perfectly imperfect and imperfectly perfect. You really are divinity living reality, a seed of beauty, always growing into more of who you truly be! Thank you! Thank you for you and for sharing this moment of Love and alchemy with me. Blessed Be!