Click the box to the left to stop & start the song,
I Am A Bright Light

Season Of Peace & Nonviolence Jan 30-April 4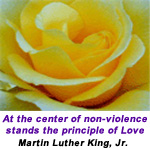 I first learned the concepts of non-violence in my marriage. ~ Gandhi

"January 30 - April 4, is a national 64-day educational, media, and grassroots campaign dedicated to demonstrating that nonviolence is a powerful way to heal, transform, and empower our lives and our communities. Celebrating its 20th year and based on the memorial anniversaries of Mahatma Gandhi and Dr. Martin Luther King, Jr., this international event honors their vision for an empowered, nonviolent world."
For more, go to the
Association for Global New Thought
.
"Peaceful Reconstructionists"

Play our interactive games honoring inspirational individuals who peacefully changed our world

and all of humanity for the greater good!