Bounty Of New Thought Books
Scroll down for some reverent resources & free Es!
Electronic books to read here online or to download & read ~
open here or right click and save target as.

New Thought Families Leaping Literacy!
Click the links below for our Spirit filled Laurie StorEBooks!
~ Read & hear samples as well as access downloads through
Kindle and/or Leaping Literacy!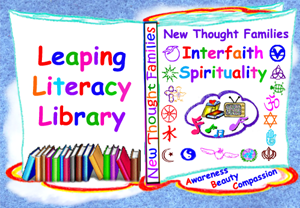 Leaping Literacy Library Mindful, Mystical Marvelous Members:
Access All Of Our Books!


Listening In The Quiet
A colorful, playful meditation of life listening!


Sebastian Wakes Up
An artful story of family, oneness & awakening!