Back to Heart Of Love Light Calendar !
Interfaith

World Refugee Day ~ June 20 ~
World Refugee Day serves to commemorate the strength, courage and resilience of millions of refugees that have been forced to flee their homes out of fear of persecution or to escape disasters. The day also aims to recognize refugees for their contribution to the world. According to the United Nations, there are more than 50 million people displaced by war and violence, of which 33 million are internally displaced while the other 17 million are refugees, mostly in neighboring nations.

The United Nations General Assembly designated World Refugee Day in December 2000.
It is celebrated every June 20th, a day chosen in order to coincide with Africa's previously celebrated Refugee Day.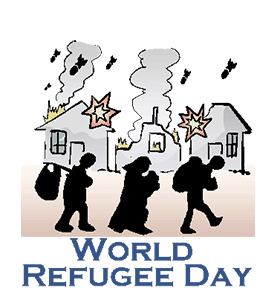 Native

June
For Native Americans in the Pacific Northwest, June marks Miso'o, the season of Sockeye salmon, which is the most important food source for the coming year. In Arizona, this is also the season of the Hopi Kachina Dances, in which long lines of dancers (representing various spirit-powers) perform in the open plazas of Hopi pueblos.
Islam

Ramadan ~ May 27 ~ June 24
9th month on Islamic calendar, devoted to the commemoration of Muhammad's reception
of the divine revelation recorded in the Qur'an. The event begins when authorities in Saudi Arabia
sight the new moon of the 9th month. It is the holiest period of the Islamic Year lasting 29-30 days. There is strict fasting from sunrise to sunset as well as observed prayer times. Ramadan comes from the word ramadaa, which means 'sunbaked' in Arabic. This is perhaps a reference to the pangs of hunger Muslims feel when fasting.According to Islamic tradition, menstruating women, women who are experiencing bleeding after giving birth, people who are sick (either with short term or long term illnesses), and travelers are exempt from fasting. Pregnant women also have the option of skipping fasts.In Islamic countries, when Ramadan ends and the crescent moon is first seen, people bang drums and give mighty shouts.


I am flowing in grace!


Photo C Laurie Story Vela